Article
vCloud Director Multi-tenant and self-service
Why vCloud Director should be the centre of your infrastructure
Anyone who thinks that VMware's vCloud Director is no longer available is wrong. vCloud Director is more alive than ever, with new, rich functionality released almost every quarter. The latest version, vCloud Director 9.7, is available since April 2019. vCloud Director is the must-have VMware delivery platform for successfully operating and managing cloud services for service providers. That is, if they want to meet the dynamic needs of their customers and stay ahead of their competitors now and in the future. This article explains why.
VMware vCloud Director
VMware vCloud Director is a cloud service delivery platform, developed and created only for service providers – available through and included in the VMware Cloud Provider Program (VCPP) bundles at no additional cost – to deliver secure, efficient, and highly elastic cloud resources to their customers. This allows service providers to convert physical data centres into virtual data centres. vCloud Director is a layer on top of VMware products, such as VMware vSphere, VMware NSX and VMware vSAN and provides a multi-tenant, self-service portal that allows customers to create and manage their own environments.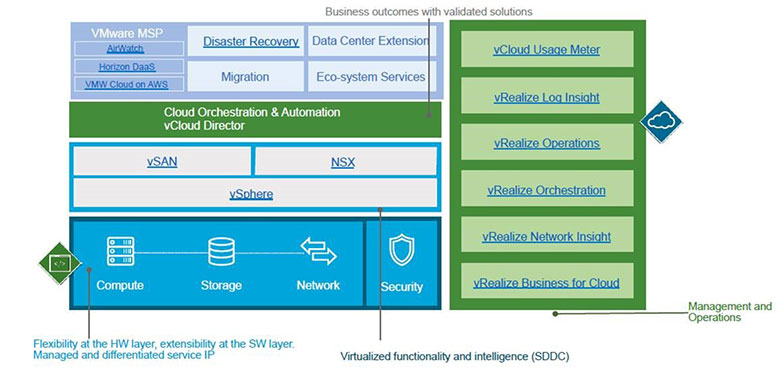 Multi-tenant platform
vCloud Director 9.7 is the first cloud platform to offer both private and multi-tenant cloud service delivery capabilities, because it makes it easy to create virtual data centres from a common infrastructure to meet the different needs of end users. It enables service providers to deliver Infrastructure-as-a-service (IaaS) with self-service on top of their VMware infrastructure.
Self-service platform
Thanks to a policy-driven approach, end users have isolated virtual resources, independent role-based authentication, and fine-grained control. This meets the current market demand in which users request resources without the involvement of the service provider. Where these services have not been able to be delivered very easily, vCloud Director now offers service providers the opportunity to offer their (pre-provisioned) self-service options for end users without compromising security and access control. And considerably safer than with only vSAN or vSphere, because the platform is multi-tenant by nature and therefore separated for rights and resources.
Orchestration and automation
vCloud Director is deeply integrated with orchestration and automation tools such as vRealize Orchestrator, HashiCorp Terraform, and Cloud Provider Pod (see below). It helps service providers to automate and orchestrate complex workflows and deploy a variety of services while maintaining access control and visibility. Benefits include standardisation of processes, general enforcement of security measures, and insight into resources and processes through a single pane of glass.
Faster provisioning, no extra staff
In addition to the benefits mentioned in the previous section, vCloud director and orchestration also helps to reduce staff efforts, eliminates the risk of errors and speeds up the delivery of cloud services to customers and end users. In short, you can do more without extra staff. The automation and outsourcing of tasks in vCloud Director means that (end) users have fairly extensive self-service options, so that personnel problems can be overcome and customers and services can be implemented much faster.
Service expansion and revenue increase
vCloud Director allows service providers to spin up new services using workflows or leverage natively integrated service capabilities. Think of services such as disaster recovery, deployment services, security services, networking services, container services and more. The portfolio and platforms within the VMware Cloud Provider programme below illustrate an overview of possible services.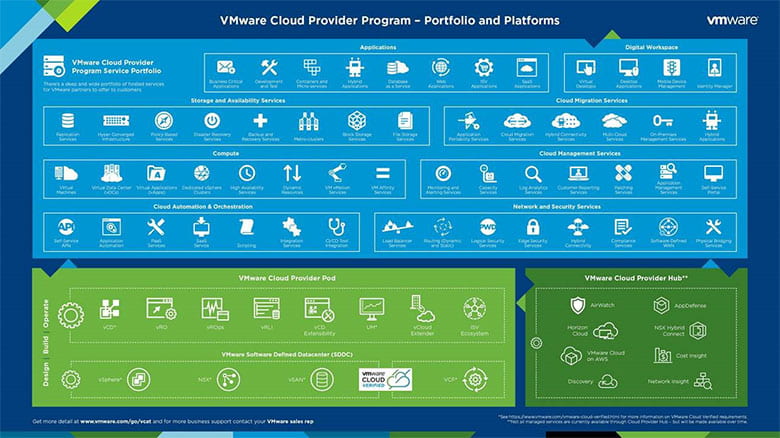 Cloud Provider Pod
VMware recently released Cloud Provider Pod: a one-click automation tool for cloud design and deployment, purpose-built for service providers. It offers service providers the right tooling for vCloud Director, vSphere, vSAN, and NSX as an easy, one-click deployment. This is achieved through adherence to the VMware Validated Design (VVD) principles and has been thoroughly tested for interoperability and performance. The Cloud Provider Pod simplifies the provider's cloud infrastructure and accelerates a modern cloud approach. It will be released in close alignment with every new release of vCloud Director.
Differentiate with 'Cloud Verified' certification
By using the programmatic interfaces, automation tools and extensibility frameworks of vCloud Director and Cloud Provider Pod, service providers can achieve the exclusive VMware 'Cloud Verified' certification. The badge is another way to differentiate from the competition and indicates that the provider's foundational cloud technologies and services are based on VMware Cloud Infrastructure. For customers, this means that they can rely on the fact that the service provider has the knowledge, skills, experience, and tooling to support them at every stage of their cloud strategy.
Insight can help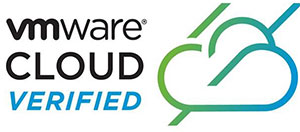 vCloud Director is VMware's flagship cloud services platform, exclusively for service providers. It is the multi-tenant, self-service platform that service providers want to put at the centre of their infrastructure. With vCloud Director service providers can increase operational efficiency, reduce costs, meet customer demands for self-service, accelerate cloud service delivery, add revenue by new services, and differentiate from their competitors.
If you want to discuss what vCloud Director can do for you, how you can boost your existing business with new functionality and remain successful in a world that is rapidly transforming, contact us at Insight. A dedicated team of cloud consultants is ready to work with you and help you be successful with vCloud Director now and in the future.