The future of work
HoloLens 2 delivers a breakthrough combination of hardware, mixed reality and Artificial Intelligence (AI) to take your productivity into uncharted territory.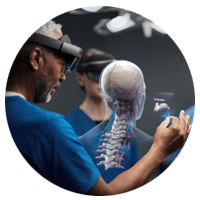 Immersive
Untethered hardware and a large, high-resolution display give you the full picture of your surroundings.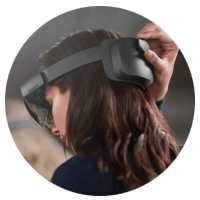 Comfortable
The headset is designed to provide optimum fit, minimal eye fatigue and consecutive hours of use.
Intuitive
User-friendly voice and hand commands let you seamlessly interact with holograms in your environment.
Collaborate and communicate remotely
See how Alder Hey Children's Hospital pioneered remote clinical care with Microsoft HoloLens 2 and Dynamics 365 Remote Assist through the support of Insight.
38% of IT leaders cited AR, VR and other immersive experience technologies as critical to innovation in their organisation.
Insight Technology Index Report 2019
Our Solutions
---
Our Mixed Reality services enable you to plan, build and manage solutions based around Microsoft HoloLens 2 devices. Dynamics 365 Remote Assist also supports compatible iOS and Android phone/tablet devices.
Microsoft HoloLens 2: How can we Remote Assist you?
In this webinar, we take a look at how this new device compares to the original HoloLens as well as learn how other organisations are already using and adopting HoloLens 2. Discover new dynamics 365 reality with a demonstration on Remote Assist.
Defy spatial limitations.
HoloLens 2 doesn't just upgrade your immediate work environment — it also facilitates collaboration across locations. Dynamics 365® Remote Assist enables hands-free sharing of visual data, so you can solve problems quickly and collectively.
The app's simple deployment, automatic updates and robust security provide an uninterrupted path to virtual collaboration. Plus, it's compatible with the Microsoft apps you already use, including OneDrive®, Power BI® and Dynamics 365 for Field Service.
Expand your AI capabilities.
The technology that powers the HoloLens delivers transformation beyond the headset, too. The Azure® Kinect® development kit packs high-performance sensors, a video camera and a microphone array into one compact, versatile device.
The small package contains big features developers can use to create AI solutions, from automating inventory processes to eliminating workspace hazards. And, elegant integration with Azure Cognitive Services and Azure Machine Learning makes your system easy to optimise and scale.