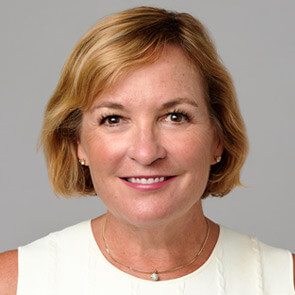 Joyce Mullen
President and Chief Executive Officer
Insight
"We are in the middle of the fourth industrial revolution. There's no industry more exciting and no place I'd rather be than Insight."
Get to know Joyce.
Joyce thrives on challenges. She embraces them as opportunities. With a growth mindset, she began her career at a global security tech startup and hasn't slowed down since. Her experience in global posts, direct factory management, sales, services and large enterprises eventually brought her to Insight, where she leads 12,000+ teammates as chief executive officer.
Joyce dedicates herself to redefining what's possible for clients and pushing the boundaries of Insight's end-to-end capabilities as a global solutions integrator. Motivated by the work organizations do every day, she aims to inspire teammates and drive success for Insight's clients, deepening the company's legacy of integrity and inclusion.
She joined Insight in 2020 as president of North America, working to overcome disruptions, navigate uncertainty and accelerate digital transformation. She developed an appreciation for how Insight's industry expertise and partner relationships are uniquely positioned to solve customers' biggest challenges. In 2022 she was promoted to CEO.
Joyce holds degrees from Brown University and Harvard Business School, and she has gained critical management experience through roles at Cummins, Dell Technologies and Insight.
In her nine years at Cummins, she served as chief of staff to the CEO, directed logistics in EMEA, managed a manufacturing plant and led international customer support. At Dell, she led operations, services and sales over a 21-year tenure, developing a reputation for optimizing operations and finding efficiencies to improve customer and teammate experiences. Joyce co-founded Dell's employee resource group for cultivating women leaders in technology, advocating for sustainability, inclusion and equity. She developed a relationship with Insight as president of the global channel, embedded and edge solutions.
Joyce is passionate about technology's potential to create a smarter, stronger future for people and the planet, and she's proud to help provide the tools that make it all possible.
Gain knowledge from our leadership.
Insight executives and industry thought leaders share their perspectives on IT and the industry in a variety of content available to view now.