Works with the apps you
already love.
Adobe Sign works seamlessly with Adobe Acrobat DC and integrates with the Microsoft apps your teams rely on. Easily send and sign documents directly in Microsoft 365, Teams and more. And we offer plug-and-play integration with dozens of other apps, including Workday and Salesforce.
Trusted by millions.
Adobe Sign has processed more than 8 billion transactions from millions of signers around the globe. Whether you're a small startup or a global organisation, Adobe Sign can help your business work smarter and faster. Our digital workflows deliver on the immediate needs of every department, across every part of your business.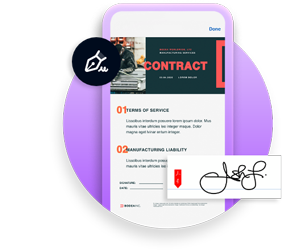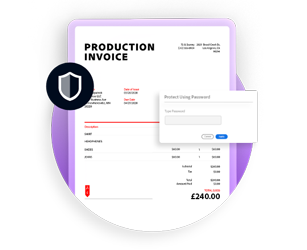 Enterprise-gradient security and compliance.
Adobe Sign is as simple as you want and as secure as you need. It's certified compliant with ISO 27001, SOC 2 Type 2 and PCI DSS. Additionally, Adobe Sign can be configured or used in a manner to allow organisations to meet industry-specific compliance requirements such as HIPAA, FERPA, GLBA and FDA 21 CFR Part 11.
Save time and money.
Start using Adobe Sign in hours or days — not weeks or months. Our Professional Services team can guide you through every step. From cost to time savings, Adobe Sign delivers immediate value — ROI of 420%, 28x faster approval cycle time and 1.5 hours saved with every transaction.*
* "The Total Economic Impact of Adobe Sign." Forrester Consulting. August 2019.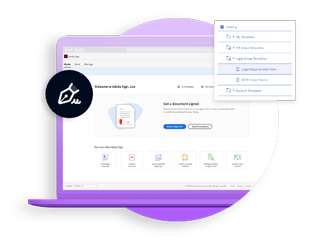 Electronic signatures.

Upload a document that needs to be signed, add the signer's email address and hit send. That's all there is to it.
Tracking and management.

Adobe Sign puts you in control. With real-time notifications and reminders, it's a breeze to track and manage every document you send out to be signed.
Integrations that simply work — right out of the box.
Productivity apps.
From Microsoft 365 to Box and beyond, Adobe Sign brings the power of e-signatures to the apps you use every day — making them more productive than ever.

Enterprise apps.
Adobe Sign is prebuilt to run inside enterprise apps from companies like Salesforce, Workday, Apttus, SAP Ariba and others. Now you can prepare, send, track and capture signatures without leaving your favourite app.