Realise the potential of a hybrid cloud world
The journey to the cloud is complicated. What IT services should go where? Which workloads and applications are best migrated? What is best remaining on-premise?
Our Hybrid Cloud Assessment is a strategic, structured service delivered by an experienced Cloud Solution Architect. It investigates which options fit your business best and why. During the assessment we will help you to identify potential opportunities, risks and costs of moving workloads to the Cloud. With our global partnerships, we can also provide guidance across multiple Cloud providers.
No matter where you are on your journey, we will help you identify the right path to achieve your cloud and data centre transformation goals.
You will benefit from:
Plan, build and manage
We create a shared vision that translates into a robust design –while transforming your siloed IT into an aligned, effective team.


Proven methodology
We use a five-phase process to compile key data about your workloads, apply best practices and decision logic, model costs and perform comparison analysis, and provide a customised roadmap.
Successful application migration
Get recommendations on which applications to retain, retire, rehost, replatform, repurchase or refactor during your move to the cloud.


Focused evaluation
Evaluate the data centre technologies that will underpin and support a seamless and optimised overall hybrid cloud platform.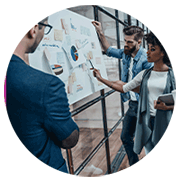 In-depth analysis
Analyse the business, technical, process and commercial aspects of your IT services.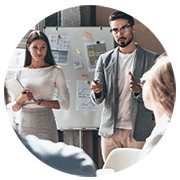 End-to-end delivery
Receive a comprehensive design highlighting risks, assumptions, issues and dependencies that might have an impact on your move to the cloud.
Ensure a smooth and secure path for cloud adoption.
Our Hybrid Cloud Assessment investigates which options fit you best and why, and highlights what risks you might need to manage going forward in achieving your cloud and data centre transformation goals. We examine service and support models, and security issues that you should consider, and enable you to trial workloads and services in a controlled and assured manner, taking into account suitability and dependencies. We'll help you create a professional roadmap that aligns the right technologies to your unique requirements.
---
Get expert objective advice
Our significant experience and strategic partnerships with leading cloud technology organisations, allow us to help you understand and assess the suitability of specific cloud and data centre services from the myriad available.
---
A proven and assured Service Delivery Methodology
Our Hybrid Cloud Assessment follows a strict process to ensure you begin or expand your migration with confidence and success.
We'll guide you through a comprehensive approach, detailing challenges and opportunities for data, applications, infrastructure and licensing. We'll also help you identify which workloads to migrate, retire or retain.
Next steps
The Insight Hybrid Cloud Assessment is part our Cloud Migration services portfolio, a suite of services designed to make your journey to the cloud seamless and successful.
Tailored to your specific requirements, it builds on the findings of our Discovery Workshop and drills down further into more detail on your environment. So you're ready for the next step.
Get your Hybrid Cloud Assessment
Contact us to find out how we can work together to put your organisation on a clear, confident path to hybrid IT.