State of IT Modernisation 2020
89% of organisations have either switched or are in the process of switching from an all-private or all-public cloud strategy to a hybrid cloud approach.* Have you considered the benefits of a hybrid approach to the cloud?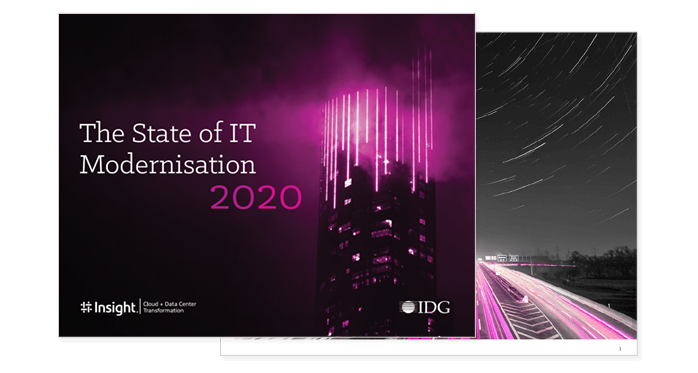 Driving change through innovation
Organisations shouldn't have to struggle with the task of modernising their IT infrastructure. However, multiple procurement options coupled with poor adoption of a technology roadmap can make it difficult to drive optimised investments.
Discovering the technology platforms that are most appropriate for your organisation needs to be a priority. The right choices will enable the acceleration of future innovation. This needs to be coupled with defining a standardised approach that includes governance & compliance procedures to support process modernisation.
Learn more about how to overcome barriers and drive IT modernisation through watching our recent webinar.
Expert advice to help you accelerate your journey
Through our range of services, accelerate your digital transformation journey. We support our clients to optimise and modernise their infrastructure with our end-to-end services.
Speak to our experts
🗸 Migration services to maximise success.
🗸 Multi-cloud and multi-vendor 24x7 support.
🗸 Managed services to optimise your environment.
🗸 Accelerate and simplify the implementation of new and advanced technologies.
Explore other Insight services that can support your business right now
and evolve with you and your business needs into the future.